Introducing our new bagasse made tableware
• Compostable, Biodegradable, Environmentally Friendly
• Perfect for holding food and meals.
• Made from Sugarcane Fibers
• Suitable for Hot and Cold Food
• Liquid & Oil Resistant
• Microwave Safe.
CLICK HERE TO PURCHASE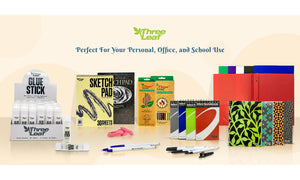 Three Leaf brand school supplies
Our notebooks comes with A grade and high bright paper
Our Pencils are 100% tree-free made from recycled paper.
Non-toxic and safe for children.
All product comes in variety of styles and colors.
CLICK HERE TO PURCHASE